Fig. 60.1
Granulomatous slack skin variant of mycosis fungoides. Infiltrated erythematous plaques with a wrinkled atrophic surface reminiscent of those of parapsoriasis en plaques, on the right flank and intertriginous regions for 3 years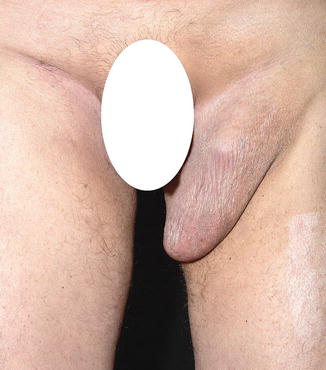 Fig. 60.2
Granulomatous slack skin variant of mycosis fungoides. The inguinal lesions progressively enlarged to become bulky pendulous tumors
Pathology
Skin biopsy reveals a patchy lichenoid and nodular infiltrate of lymphocytes extending from the superficial dermis to the subcutaneous fat and even to the skeletal muscle (Fig.
60.3
). In the upper part of the dermis, the infiltrate composed of lymphocytes and histiocytes is somewhat band-like. The papillary dermis is thickened by haphazard fibrosis. The epidermis is usually uninvolved, but focal epidermotropism may sometimes be encountered. However, Pautrier microabscesses are absent. There is fibrosis and a mixture of lymphocytes and clustered histiocytes present throughout the dermis and extending into the subcutaneous fat and skeletal muscle. Some areas show extensive granulomatous infiltrate with an abundant number of granulomas. However, most of the areas are defined by a predominantly lymphocytic infiltrate which is secondarily joined by granulomatous inflammation. The dense infiltrate of lymphocytes is accompanied by countless, evenly spaced multinucleate histiocytes with extraordinary number of nuclei (Fig.
60.4
). The giant cells are surrounded by a wreath-like arrangement of mononuclear cells and they also contain engulfed lymphocytes—lymphophagocytosis (Fig.
60.5
). The lymphohistiocytic infiltrate is also accompanied by an increased number of eosinophils and plasma cells. The lymphocytes are not very atypical but some have enlarged and hyperchromatic, convoluted nuclei. Lymphocytes and giant cells are sometimes present into the walls of several medium and large vessels—granulomatous vasculitis (Fig.
60.6
). Prominent elastolysis and elastophagocytosis evidenced by an elastic van Gieson stain is a characteristic feature.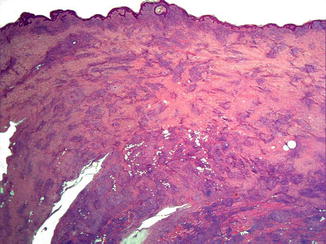 Fig. 60.3
Granulomatous slack skin variant of mycosis fungoides. Skin biopsy reveals a patchy lichenoid and nodular infiltrate of lymphocytes extending from the superficial dermis to the subcutaneous fat and skeletal muscle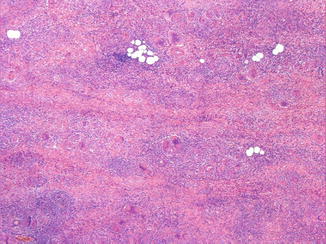 Fig. 60.4
Granulomatous slack skin variant of mycosis fungoides. The dense infiltrate of lymphocytes is accompanied by countless, evenly spaced multinucleate histiocytes with extraordinary number of nuclei
Premium Wordpress Themes by UFO Themes
WordPress theme by UFO themes