(1)
Department of Anatomy, Medical School Democritus University of Thrace, Alexandroupolis, Evros, Greece
Abstract
The cervical skin serves as an abundant source of flap material that can be transferred to close large facial defects. The superficial neck anatomic structures that are involved in skin flap surgery are the skin and the subcutaneous tissue, the platysma muscle, the investing layer of the deep cervical fascia, and the superficially located neck muscles. The skin of the neck is supplied by musculocutaneous and direct cutaneous perforators of branches of the external carotid artery and of the thyrocervical trunk of the subclavian artery. Important motor and sensory nerves that are located in a superficial level at the neck are involved in the surgery of the flaps that are derived from the neck. The regional neck flaps provide skin quite similar in color, texture, and thickness regarding the skin of the lateral face and must be the first choice when a local flap is not sufficient to reconstruct a sizeable defect.
The neck is the part of the body that joins the head and the trunk. It is bounded superiorly by the base of the cranium and the inferior border of the mandible and inferiorly by the thoracic inlet (Fig.
8.1
).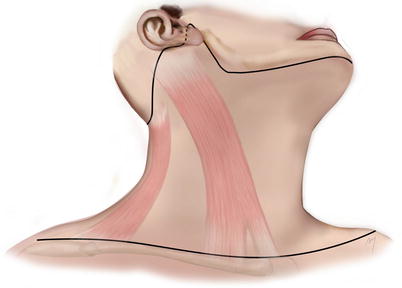 Fig. 8.1
Boundaries of the neck
More precisely, the superior limits run along the external occipital protuberance, the superior nuchal line, the mastoid apophyses, the anteroinferior borders of the external auditory canals, and the posterior and inferior mandibular borders. The lower limits lie along the superior border of the sternum and the clavicles, the acromioclavicular joints, and a line that joins the acromioclavicular joints to the spinous process of the seventh vertebra. A plane extending from the transverse vertebral processes to the anterior edges of the trapezius muscles divides the neck into a posterior and an anterior part.
8.1

Superficial Anatomy of the Anterior Neck
Premium Wordpress Themes by UFO Themes
WordPress theme by UFO themes