, Julie Karen1 and Perry Robins1

(1)
New York University School of Medicine, New York, NY, USA
Preoperative History
Medical history with particular attention to:





Coronary artery disease






Hypertension






Arrhythmias






Pacemaker or defibrillator






Heart murmurs






Artificial heart valves






Prosthesis or shrapnel






Bleeding or clotting disorders






Hepatitis or HIV






Keloids or hypertrophic scars






Alcohol use






Cigarette smoking






Pregnancy (consider consultation with obstetrician)
Medications with particular attention to:





Anticoagulants (recommendations on next page)






Herbal and over the counter medications including but not limited to:






Vitamin E






Feverfew






Fish oil






Garlic






Ginger






Gingko biloba






Ginseng






Others: dong quai, licorice, devil's claw, and danshen have the same antithrombotic effect and should be discontinued 7–10 days preoperatively






Recent use of oral retinoids (e.g., isotretinoin): may impair healing






Immunosuppressants (e.g., TNF-inhibitors, cyclosporine, methotrexate, mycophenolate mofetil, and prednisone): may impair healing






Medication allergies
Recommendations for management of anticoagulants:





Aspirin

: irreversibly inhibits platelet aggregation via acetylation of cyclooxygenase. One aspirin affects a platelet throughout its lifespan of 6–10 days. Medically indicated aspirin should not be stopped. However, if the patient can safely discontinue aspirin without a high risk for stroke or myocardial infarction, it should be withheld for 10 days before surgery and then possibly 5–7 days after surgery (after consultation with the patient's internist or cardiologist when appropriate). There may be a risk of rebound hypercoagulability with cessation.






Thienopyridines

(e.g., clopidogrel, ticlopidine): irreversibly inhibit platelet aggregation via inhibition of an ADP receptor on platelets. Normal platelet function returns 5–7 days after discontinuing these medications. In patients on these drugs for cardiac or neurologic indications, it is generally not advisable to stop the drug.






Warfarin

(Coumadin): inhibits vitamin K dependent clotting factors and is commonly used in patients with a history of atrial fibrillation, DVT, and in patients with artificial heart valves. Dermatologic surgery can be safely performed without stopping warfarin as long as the INR ≤ 3. An INR should be checked within a week of planned surgery.






Dabigatran etexilate

(Pradaxa

®

): is an oral direct thrombin inhibitor used to reduce the risk of stroke and blood clots in patients with atrial fibrillation (not caused by heart valve abnormalities) and generally should be continued.
Note:
The combination of two or more of these agents likely increases the risk of bleeding complications from surgery and temporary cessation of one of these agents after appropriate consultation with the cardiologist/internist/neurologist should be considered.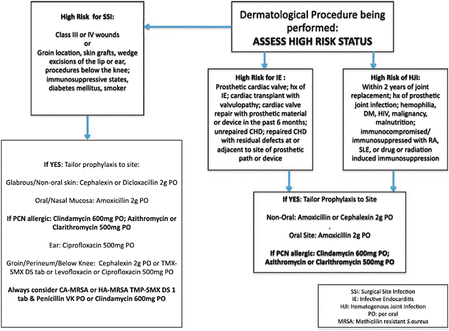 Figure 2.1
Guidelines for prophylactic and empiric antibiotics. Adapted from Rossi A, Mariwalla K. Prophylactic and empiric use of antibiotics in dermatologic surgery: a review of the literature and practical considerations. Dermatol Surg 2012;38:1898–1921
Table 2.1
Commonly used prophylactic antibiotic agents for cutaneous surgery










Antibiotic






Spectrum of activity/notes








Dicloxacillin






Staphylococcus

(methicillin sensitive),

Streptococcus







Cephalosporins (e.g., Cephalexin)






Gram+ cocci,

E. coli

,

Klebsiella

, Proteus







Clindamycin, Erythromycin, Azithromycin






If PCN allergy (note: approximately 30% may be resistant to erythromycin)







Fluoroquinolones (e.g., Ciprofloxacin)











Vancomycin (intravenous)






Methicillin-resistant

Staph aureus

(MRSA),

Staph epidermidis

, Valve <60 days







Linezolid (po)






MRSA and vancomycin-resistant

enterococcus

,

streptococcus

(note: can cause thrombocytopenia)
Table 2.2
Antiseptic scrubs













Group






Spectrum






Onset






Sustained activity






Comments








Alcohol






Gram+






Fast






None






No killing of spores, antibacterial only, flammable (caution with electrocautery)











Gram+/−






Fast






None






May sensitize patient (contact dermatitis)







Povidone-iodine (

betadine

)






Gram+/−, fungi






Moderate






Up to 1 h






Absorbed through skin, must dry to be effective, mucosal absorption during pregnancy may be associated with fetal hypothyroidism







Hexachlorophene (

pHisohex

)






Gram+






Slow






Yes






Teratogen, not sporicidal







Chlorhexidine (

hibiclens

)






Gram+/−






Fast






Yes






Oculotoxicity and ototoxicity











Gram+/−






Slow






None



Table 2.3
Local anesthetics














Generic name/trade name






Duration






Onset






Uses






Special considerations






Maximum dosage with epia (1:100,000)













Lidocaine (Xylocaine®)






1–2 h with epinephrine






Rapid






Most local infiltration






May cause CNS and cardiac toxicity, pregnancy class B (without epi)






7 mg/kg







Mepivacaine (Carbocaine®)






1–2 h with epinephrine






3–20 min






Most local infiltration and nerve blocks








7 mg/kg







Bupivacaine (Marcaine®)






12–36 h






5–8 min






Nerve blocks and long procedures






Very prolonged effect, good for post-op pain














Procaine (Novocaine®)






30–60 min






2–5 min






Dental procedures






Short duration; allergic reactions; and cross-reacts with topical anesthetics, hair dyes, sunscreens, and sulfur derivatives






15 mg/kg







Tetracaine (Pontocaine®)






4–6 h






15–45 min






Topical (cornea, conjunctiva)






Slow onset, long duration



Anesthetics: Key Facts





Two main classes: Amides and Esters






Esters can cause allergic reaction due to PABA (an ester intermediate metabolite) which cross-reacts with paraphenylenediamine (PPD), sulfonamides, and other ester anesthetics






Esters should not be used in patients with pseudocholinesterase deficiency






Three portions of the chemical structure:

1.

Aromatic: responsible for onset of activity

2.

Intermediate (middle) chain: determines class (amide vs. ester)

3.

Amine: determines duration of action






Bupivacaine has the longest duration of action






Tetracaine is the most potent ester






Cocaine is the most vasoconstrictive ester






Lidocaine Pearls:

2.

Pregnancy class B (without epinephrine)

3.

Lidocaine toxicity: first sign is lightheadedness/circumoral paresthesia/metallic taste→tinnitus/slurred speech/tremor/confusion→seizure/cardiopulmonary depression/death/coma

4.

Recommended maximum dosage with epinephrine = 7 mg/kg (500 mg in 70 kg person), without epinephrine (plain) 4.5 mg/kg (300 mg total in 70 kg person),

5.

Tumescent lidocaine 45–55 mg/kg (see Table 2.4/page 27)






Digital tourniquets can be left on for 10–15 min






Local anesthetics mechanism of action: blocking sodium influx






Patient loses the following in this order: sense of temperature, pain, touch, pressure, vibration, proprioception, and motor function






Epinephrine toxicity manifested by tremor, increased heart rate, diaphoresis, palpitations, headache, increased blood pressure, and chest pain (if hypotension consider vasovagal reaction rather than toxicity)






Epinephrine drug contraindications: MAOIs, tricyclic antidepressants, phenothiazines, propranolol, amphetamines, and digitalis






Epinephrine contraindications: peripheral vascular disease, acute angle glaucoma, severe hyperthyroidism, unstable mental status, pregnancy, severe hypertension or cardiovascular disease






Other options for injectable anesthesia include promethazine (Phenergan), diphenhydramine (Benadryl), and normal saline






Topical anesthesia:

1.

EMLA (eutectic mixture of 2.5 % lidocaine, 2.5 % prilocaine) under occlusion—Note: risk of methehemoglobinemia with prilocaine in infants
Table 2.4
Tumescent anesthesia solution
| Agent | Amount (cc) | Final concentration |
| --- | --- | --- |
| Normal saline (0.9 %) | 1,000 | |
| Lidocaine 1 % | 50 | 0.1 % |
| Epinephrine 1:1,000 | 1 | 1:1,000,000 |
| Bicarbonate 8.4 % | 10 | |













Modality






Terminala






Voltageb






Amperagec






Comments








Electrofulgaration






1






Very high






Very low






Sparks emanate from electrode which does not touch the skin, most superficial damage







Electrodessication






1






High






Low






Electrode touches the tissue, superficial destruction (avascular lesions)







Electrocoagulation






2






Low






High






Deeper penetration and better hemostasis than electrodessication







Electrosection






2






Low






High






Vaporizes tissues with little heat spread, minimal peripheral tissue damage







Electrocautery






1






N/A






N/A






Red, hot tip (high resistance metal tip). Works in bloody fields and nonconductive surfaces. No current passes through patient—

safest to use with ICD

d







Galvanic current






1






Low






Low






Direct current, used for electrolysis and iontophoresis
Cryosurgery
Defined
: Targeted tissue destruction via necrosis induced by subzero temperatures










Agent






Boiling point (°C)








Liquid nitrogen






−195.6







Nitrous oxide






−89.5







Dry ice (CO2)

Premium Wordpress Themes by UFO Themes

WordPress theme by UFO themes