Fig. 45.1
The composite eyeball and periorbital allograft is seen after harvesting based on common carotid artery and external jugular vein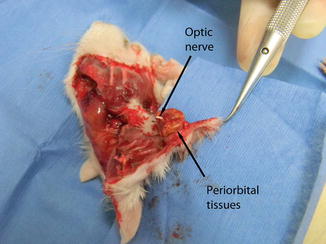 Fig. 45.2
The inner surface of the allograft
Heterotopic transplantation was decided to avoid the high mortality and morbidity rates of orthotophic transplantation in recipient rats and the anterior neck region was chosen as the recipient area. The external jugular vein and the common carotid artery were exposed and prepared for anastomosis via an anterior incision on the neck. The great auricular nerve was cut with fine dissection scissors, and the proximal stump of the nerve was used for coaptation.
The vein of the flap was anastomosed to the external jugular vein of the recipient rat in end-to-end fashion using No. 10-0 interrupted monofilament nylon sutures. Then, the artery of the flap was anastomosed to the common carotid artery of the recipient rat in end-to-side fashion using the same suture material. After the perfusion of graft was obtained, the optic nerve of the flap was coapted to the distal stump of the great auricular nerve of the recipient rat in end-to-end fashion with four epineural sutures (Fig.
45.3
). Finally, a complete tarsorrhaphy was performed on the eye of the allograft using 8/0 monofilament nylon sutures.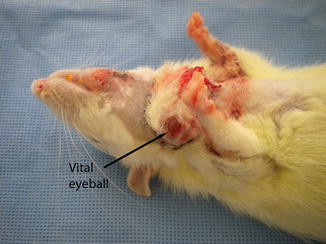 Fig. 45.3
Late postoperative appearance following heterotopic transplantation to the neck of the recipient rat. Note that the color of the eyeball, indicating the vitality
Immunosuppression Protocol
Cyclosporine A (Sandimmun, Novartis, Basel, Switzerland) (16 mg/kg/day) was administered to all recipient rats as immunosuppressive treatment just after the transplantation. The dose of the drug was reduced to 8 mg/kg/day after 1 week of transplantation, and was continued to additional 3 weeks until the end of the study.
Evaluation
Macroscopic, histopathologic and radiologic evaluations were performed. Flap survival and rejection evidence were evaluated macroscopically on a daily basis. Volume changes were measured by magnetic resonance imaging (MRI) one day after transplantation and 30 days postoperative. The excised flap and the nerve, skin and periorbital tissue samples were evaluated histologically using a light microscope 30 days postoperative.
Findings
All the flaps were vital and there was no evidence of rejection. The eyeballs were vital, but the brightness of the eyes was diminished and the eyeballs had become smaller.
The volume of the transplanted eyeball was found to be decreased approximately by 35 %, and the vitreous humour inside the transplanted eyeball was decreased intensely when compared with the healthy eyeball of the recipient in MRI findings at day 30 postoperative.