93 % and Specificity

88 %. Furthermore it shows that color descriptors perform better than texture ones in the detection of melanomas.

Keywords
Melanoma diagnosis
Dermoscopy
Bag-of-features
Feature extraction
Feature analysis
Color features
Texture features
Introduction
Bag-of-Features
The description of an image with local features have been successfully used in several complex image analysis problems, such as scene recognition and object-class classification [
22
,
23
,
27
,
42
,
44
,
50
]. The used approach is called Bag-of-Features (BoF) [
42
,
44
] and it is inspired by the bag-of-words (BoW) [
5
], which is a well known text retrieval algorithm. The procedure used by BoW to model documents evolves in three different steps. The first step consists of parsing the documents of the dataset into words, i.e., dividing the documents to smaller components. Images can also be sampled into smaller regions (patches). Two sampling strategies are commonly used in BoF: sparse and dense sampling. Sparse sampling is performed by detecting a set of informative keypoints (e.g., corners) and their respective support regions (square patches). This detection can be done using one or more of the several detectors proposed in literature (e.g. Difference of Gaussian [
28
] or Harris-Laplace [
30
]). A comparative study between the six most popular keypoint detectors can be found in [
22
]. For dense sampling it is assumed that each keypoint is the node of a regular grid defined in the image domain. The patches associated with the keypoints are extracted by sampling uniformly over the grid. Both sampling methods have been used in different works and a comparison between the two strategies was performed by van de Sande et al. [
38
]. Their experimental results showed that dense sampling outperformed sparse sampling. The BoF approach proposed in this work uses dense sampling to extract the patches from a given image and only patches whose area is more than 50 % inside the lesion are considered.
The second step in BoW document analysis is to represent each word by its stem. The equivalent for the image analysis case is to represent each patch by a feature vector

. Different features can be used to locally describe the patches. This chapter focus on two specific kinds of features, color and texture, which will be addressed in section "Local Features".

square patches are extracted from each image

on the dataset. Therefore, a family of local features will be associated with

as follows

(1)
The last step of both BoW and BoF corresponds to the training process. In the first, each discriminative word receives an unique label. Very common words, which occur in most documents, are rejected and do not receive a label. This process can be seen as the creation of a dictionary of representative words. Then, each document is analyzed separately and its discriminative words are compared with the ones from the dictionary. From this comparison will result an histogram of the frequency of occurrence of the dictionary words within the document. This histogram will represent the document and will be used to compare different documents and assess their degree of similarity. Reproducing this histogram representation in the BoF case requires some extra effort. First, assuming that there is a dataset of

images, this dataset has associated with it set of all the extracted local features

(2)
In practice, the set

has many thousands (or even millions) of feature vectors. Therefore, in order to obtain a visual dictionary (analogous to the dictionary of BoW), this set has to be approximated by a collection of prototypes

called
visual words
. The
visual words
are obtained using a clustering algorithm (in this work K-means is used). After obtaining a visual dictionary, all feature vectors in the training set are classified in the nearest
visual word
and a label

(3)
which identifies a specific
visual word
, assigned to each feature vector
. The final step is to characterize each image

by a histogram of visual words frequency

(4)
where

denotes the Kronecker delta (

, if

;

, otherwise). As in BoW, this histogram will act as the feature vector that describes the image and the set of

feature vectors obtained this way will be used to train a classifier.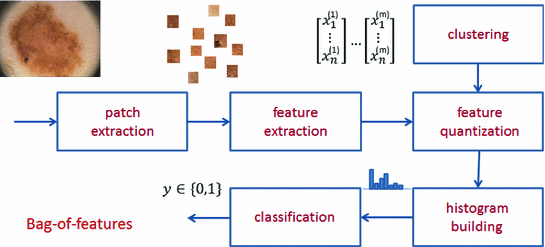 Fig. 2
Block diagram of the BoF classification system
For each new image

to be classified the process is similar to the one described previously. The image is sampled and local features are extracted. Then, the local features are compared with the dictionary of visual words obtained in the training phase and, finally, the histogram of visual words frequency is computed. The image is classified using the computed histogram and the classifier learned using the training set.
All the steps of the BoF strategy described previously are summarized in Fig.
2
.
There are several factors that can impact the performance of BoF. Following the blocks sequence on Fig.
2
these factors are: the size of the regular grid (
) used in the patch extraction step, the type and quantity of extracted features, the size of the dictionary (

), and the classification algorithm used. All these factors are thoroughly analyzed in this work. Several values for

and

are tried and three classification algorithms with different properties are tested: k-nearest neighbor (kNN) [
16
], AdaBoost [
17
] and support vector machines (SVM) [
8
,
12
].
Local Features
The local dermoscopic criteria used by dermatologists to diagnose skin lesions can be represented by two different kinds of image features: texture and color features. Local dermoscopic structures such as pigment network, dots and streaks can be characterized by texture features since these features represent the spatial organization of intensity in an image, allowing the identification of different shapes. Color features describe the color distribution, thus they are able to characterize particular pigmented regions such as blue-whitish veil or regression areas.
In theory both of these features provide a good description of the extracted patches (see Fig.
2
) and both play an important role in the final classification. One of the main objectives of this chapter is to determine if the previous hypothesis are correct. This objective is accomplished by assessing the performance of color and texture features separately and by combining both of them. Moreover, since both color and texture features can be extracted using different types of descriptors, a comparison between some of them is also performed. The several texture and color descriptors tested are described in the next sections.
Texture Descriptors
Color Descriptors
Several color descriptors, such as histograms and mean color, have been used in object and scene recognition problems [
39
]. The descriptors are usually computed over one or more color spaces like RGB, HSV/I [
49
], CIE La*b* and L*uv [
49
] and the biologically inspired opponent color space (Opp) [
7
]. These six color spaces have different properties, thus they might provide different information for the melanoma classification problem addressed in this chapter. For this reason the six previous color spaces are tested.
For each color space a set of three histograms is computed (one for each of the three color components). For each patch, the histogram associated with the color channel

is given by

(12)
where

is the number of pixels inside the patch,

is the histogram bin,

is the number of bins and

is the characteristic function of the

th bin

Premium Wordpress Themes by UFO Themes
WordPress theme by UFO themes