Microvascular Free Transfer of A Partial Fibula for Mandibular Reconstruction
EDITORIAL COMMENT
This is an excellent chapter describing the procedure that is most commonly known for restoration of continuity of the mandible.
Reconstruction of the mandible, particularly when the defect involves the anterior mandible, is a formidable challenge to the reconstructive surgeon. Most defects consist not only of bone, but also of soft tissue, thus necessitating use of a composite reconstructive modality. Vascularized bone has been well accepted for use in reconstruction of the mandible. Of all the flaps currently available, the fibula has become the flap of choice at many centers.
INDICATIONS
Benign and malignant neoplasms account for about 80% of mandibular resections. Most of these tumors are squamous cell carcinomas that require composite reconstructions wherein both the mandible and the affected extraoral and intraoral soft tissues are replaced. This type of restoration also may be indicated for severe trauma to the lower face.
The advantages of the fibula free flap include (a) ease of flap harvest; (b) excellent quality and quantity of bone, suitable for placement of dental implants; (c) a segmental periosteal blood supply that provides good flow to multiple osteotomy sections, allowing shaping of the bone to match the original mandible; (d) a reliable skin paddle that can be derived from the lateral leg skin; (e) a remote location in relation to the tumor site, which permits a two-team approach that reduces operating time; and (f) less donor-site morbidity (
1
,
2
,
3
).
If no skin paddle is required, the fibula is harvested from the ipsilateral leg. If skin tissue is needed in the reconstruction, the contralateral leg is selected, allowing for placement of the skin paddle intraorally (
Fig. 212.1
).
ANATOMY
The fibula bone lies in the deep posterior compartment, just lateral to the tibia (
Fig. 212.2
). The upper end of the fibula
does not comprise any part of the knee joint but articulates with the undersurface of the tibial plateau. The lower end of the fibula is the lateral malleous and is involved in ankle-joint articulation. There are four muscles surrounding the fibula: the extensor digitorum longus superiorly, the posterior tibialis medially, the peroneal muscles laterally, and the flexor hallucis longus inferiorly. The blood supply to the fibula comes from the peroneal vessels, which are one of three terminal branches of the popliteal artery; the others are the anterior tibial vessel and the posterior tibial, which branches with the peroneal vessels.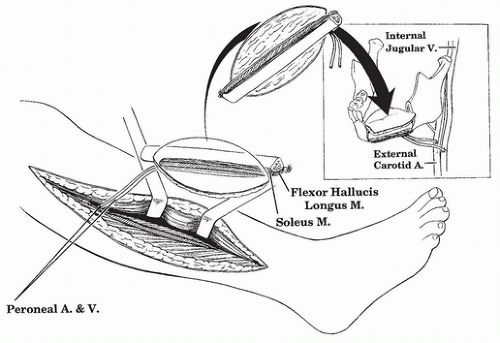 FIGURE 212.1
Use of the contralateral osteocutaneous fibula facilitates intraoral placement of the skin paddle.
The peroneal vessels lie between the tibialis posterior muscle and the flexor hallucis longus. The posterolateral intermuscular septum is the terminal end of the transverse crural septum; it is through this septum that the cutaneous perforators run. It is therefore important to harvest as much of this septum as possible when harvesting the skin paddle (see
Fig. 212.2
).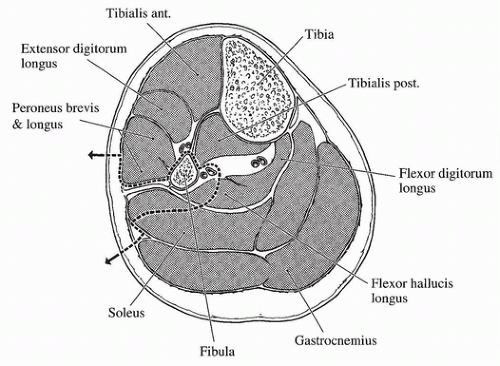 FIGURE 212.2
Cross-sectional anatomy of the leg;
dotted line
denotes tissue harvest for osteocutaneous fibula.
Premium Wordpress Themes by UFO Themes
WordPress theme by UFO themes