Paired Deltopectoral Skin Flap to The Lip
EDITORIAL COMMENT
It appears that this reconstruction could be accomplished with one deltopectoral flap if the surgeon desired. This denervated lower lip reconstruction will tend to sag because of its own weight and the continuous pull of gravity.
ANATOMY
The main blood supply of the deltopectoral flap is provided by the second and third intercostal arteries (see
Chapter 127
).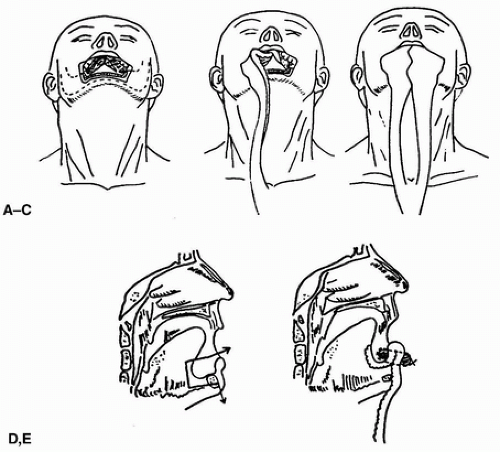 FIGURE 173.1 A-E:
The technique for repair of a total defect of the lower lip and chin with two folded deltopectoral flaps: the "Pharoah" technique. (From Soussaline and Kauer, ref.
8
, with permission.)
Full access? Get Clinical Tree
Get Clinical Tree app for offline access