Island Pedicle Flaps

INTRODUCTION
Subcutaneous island pedicle flaps allow for substantial tissue mobilization. This is accomplished by selectively and carefully disrupting connections to the surrounding tissues to elevate and mobilize a subcutaneous pedicle. A balance must be established between releasing restraint and maintaining a sufficient blood supply to ensure flap viability. Single stage island pedicle flaps have been utilized since the late 19th century,1,2 and an excellent review of the technique was published as early as 1965 by Barron and Emmett.3 It was Esser, who is best known for the original design of the bilobed flap, who first called this an island flap. Because of the geometric outcome of the typical island pedicle flap the most common variant has widely been referred to as a V-Y advancement.4
An island flap design isolates an island of skin on a vascularized deep fatty pedicle,4,5–7 a deep muscular pedicle,8 a lateral fatty pedicle,9–11 a muscular sling,12,13 or a dedicated axial vascular bundle14,15 (Fig. 5.1). The construction of the pedicle determines both the mobility and the vascularization of the flap. The primary motion of an island may be either advancement or transposition.3,16,17 Island flaps may be quite complex and require substantial conceptual understanding. For example, full thickness wounds of the lateral ala may be repaired with turnover nasolabial island flaps that recreate both an internal lining and an external nare.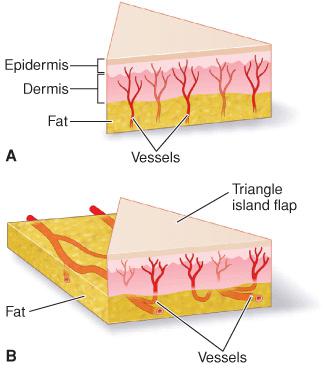 Figure 5.1 Island flaps may be nourished by a number of pedicle subtypes. (A) A deep pedicle. (B) A laterally based fatty pedicle. (C) A lateral pedicle based on a muscular sling. (D) A purely vascular pedicle based on a named artery and vein
GEOMETRY AND FLAP DYNAMICS
It is easiest to begin a discussion of island flaps with a simple design, namely the island pedicle advancement flap. As a typical advancement flap, the subcutaneous island pedicle flap may be unilateral or bilateral. In modern usage the unilateral island is more common. The most common design is a deep triangular cutaneous island in which the secondary defect is closed in a V to Y fashion. The first step in island flap creation is the same, no matter how the pedicle will be designed, is an incision along the triangular perimeter of the flap, through dermis and into the superficial subcutaneous fat. This releases superficial lateral restraint from the dermis and disrupts only the relatively insignificant dermal vascular plexus.
The full-thickness dermal release creates the cutaneous island on a broad and deep vascular base. For the most basic island, the surrounding tissues are then undermined beneath dermis, allowing the flap to advance. In practice, this rarely creates enough release to allow the flap to advance and repair the adjacent operative wound, for restraint still exists at the depth of the pedicle and from the adipose tissue on all sides of the flap. Severing the adipose tissue on any side of the flap will increase mobility and simultaneously decrease vascular supply. In many cases the most important restraint to release is at the trailing apex or V. A vertical incision through the adipose and down to superficial fascia will often afford substantial flap motion.
Three common island pedicle flap variants are: (1) a single deep central pedicle, (2) a single lateral pedicle, and (3) dual lateral pedicles.18 Island flap restraint may be deep or lateral, and this varies substantially based on anatomic location. For example, island flaps on the forehead and temples are relatively immobile, whereas island flaps on the upper lip and medial cheek have substantial deep and lateral mobility and are easily advanced over large distances.
In a number of locations the underlying musculature provides rich perforating vasculature to support the simple central pedicle design. In the infraorbital regions flaps may be based on orbicularis oculi. On the nose or in the nasofacial sulcus flaps based on nasalis or levator labii are richly endowed with both arterial and venous supply and can move substantial distances on mobile muscular pedicles. On the upper lip the orbicularis oris provides reliable blood supply. Similarly on the chin flaps based on mentalis are mobile and robust. It should be noted that in most cases, the muscle need not be incised, as the combination of loose overlying adipose and mobile musculature will allow for flap motion. In some cases as discussed later, the muscle can be divided and used as a sling.13
The simplest and most commonly used island pedicle flap has a deep pedicle of adipose tissue or muscle and a robust blood supply based on vertical perforating vessels emanating from a deep source (Figs. 5.2A and 5.2B). The pedicle itself may then be undermined at its leading edge and at its lateral edges to allow for greater mobility. This must be done with caution to avoid severing too much of the pedicle and causing flap ischemia. Both the design of the flap and its elevation are keys to its survival. A flap that is too short and that is based on an immobile underlying base is unlikely to succeed.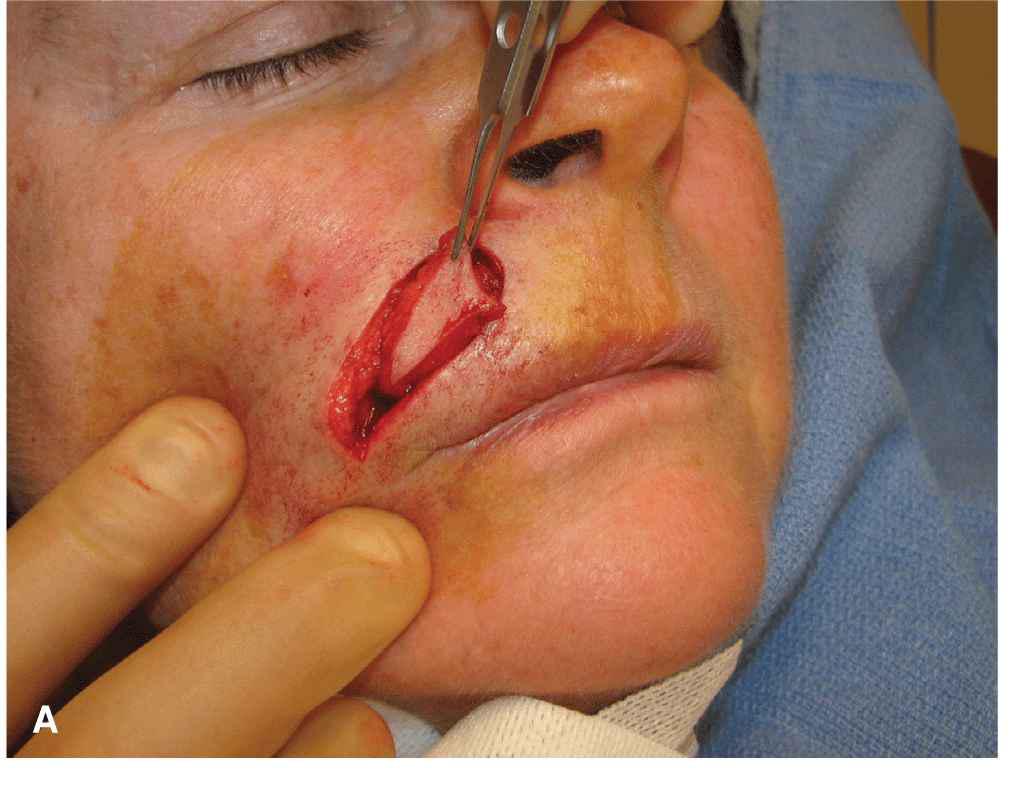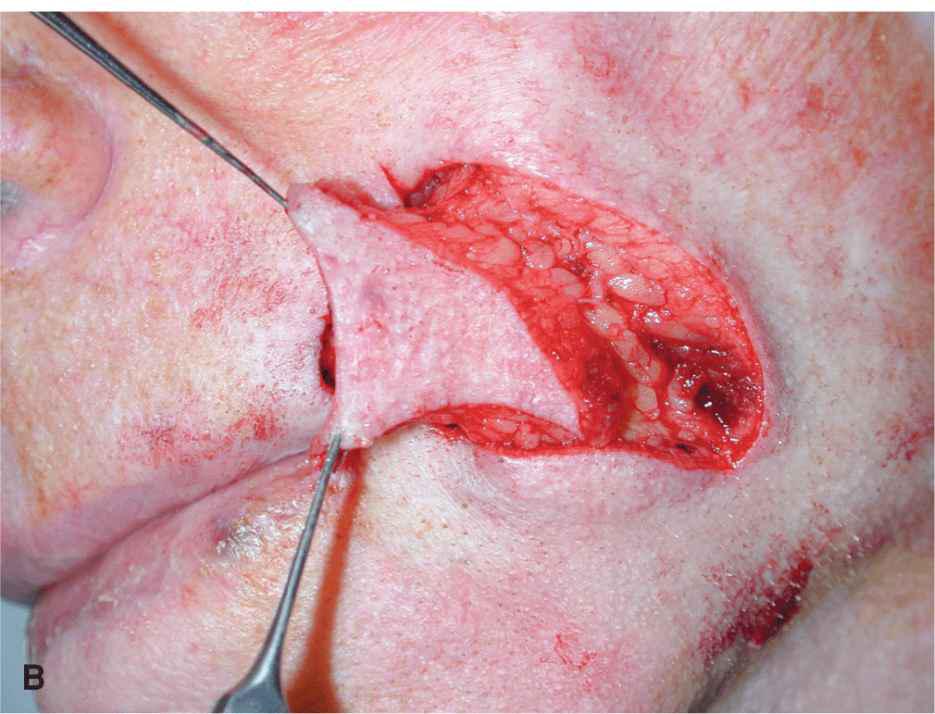 Figure 5.2 Island flaps with a deep pedicle. (A) Island pedicle flap on the lip with a deep muscular pedicle. (B) Island pedicle flap on the cheek with a deep fatty pedicle. (Part B: Reproduced with permission from Cook JL, Goldman GD. Random Pattern Cutaneous Flaps. In: Robinson JK, Hanke CW, Siegel DM, et al. (eds.) Surgery of the Skin. Copyright Mosby Elsevier; Edinburgh, UK. 2010:259.)
The anatomy of the face dictates where island flaps are most easily elevated, namely on the medial cheek and upper lip. While island flaps can be elevated on the forehead, scalp, temple, and preauricular cheek, in these regions deep and lateral fascial restraint may be substantive. On the scalp broad undermining beneath fascia may be easily accomplished yet relatively ineffective, and incision of fascia may be needed to allow for appropriate flap motion.
Properly freed Island advancements usually achieve substantial forward motion. Motion is generated by severing lateral and trailing attachments. The lateral subcutaneous tissues are incised sharply to the deeper looser subcutaneous tissues. Then, the trailing apex is freed. Lysis of this restraint is crucial and is usually best accomplished by direct visualization and sharp dissection with a blunt tipped undermining scissors (Fig. 5.3). Once lateral and trailing restraint have been released, a properly designed island pedicle flap will often advance under minimal tension. In many cases, further mobility is obtained by undermining the flap itself, especially the advancing margin and trailing apex (Fig. 5.4). Island flaps with diminutive pedicles will usually survive when appropriately freed from restraint and advanced under little tension. On the other hand, tension or torsion of a deep pedicle can quickly lead to venous congestion and/or ischemia, even if a relatively broad pedicle persists.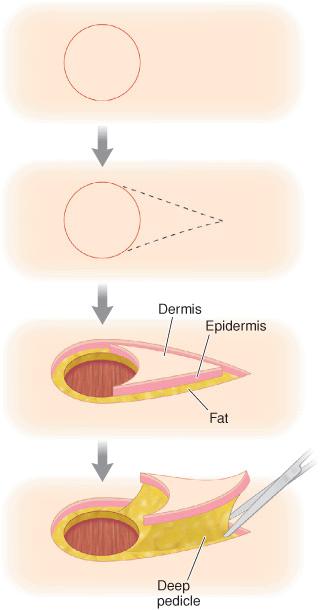 Figure 5.3 The island pedicle flap with a central deep pedicle is freed from surrounding restraint by sharp incision with direct visualization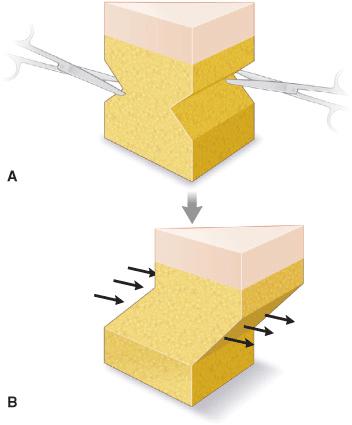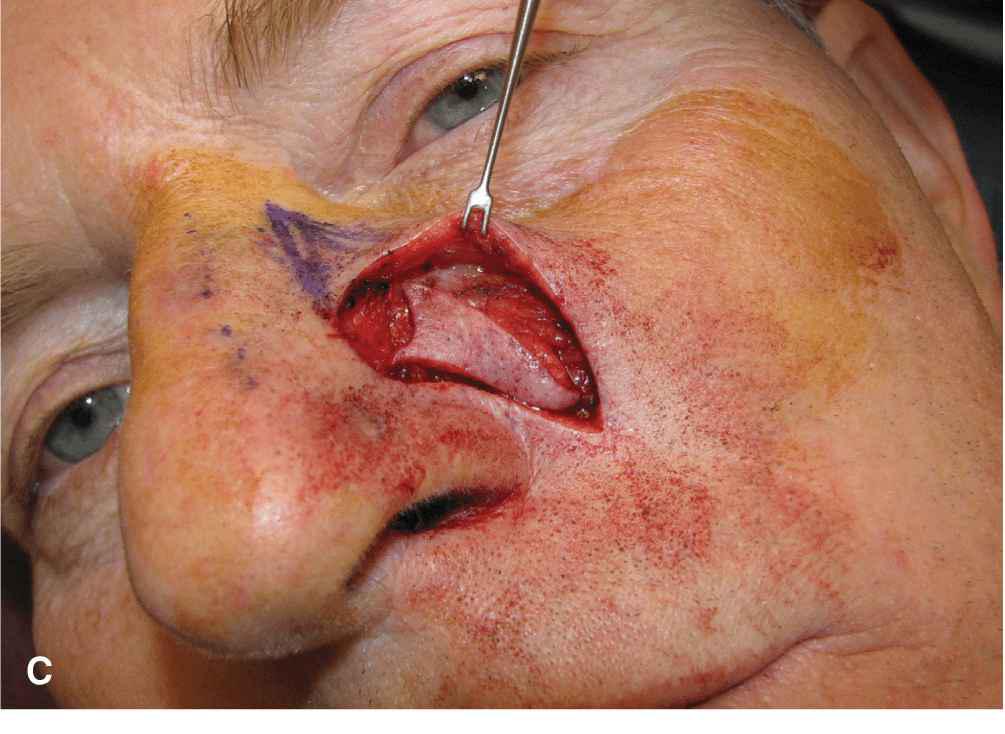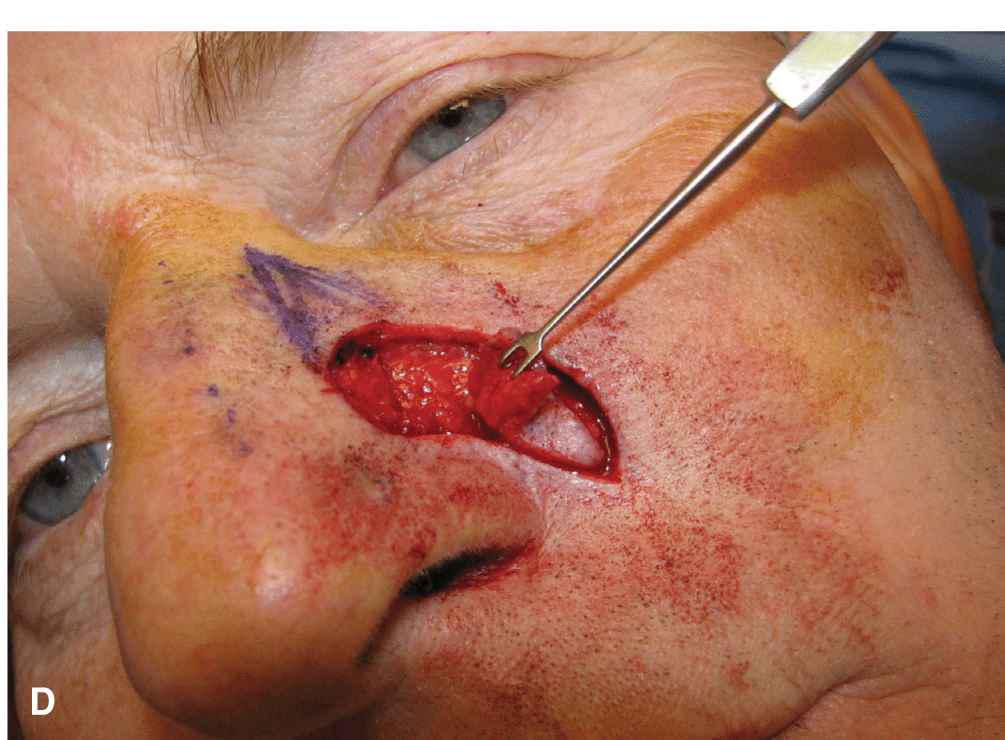 Figure 5.4 Undermining the leading and trailing edges of a deep island can provide additional mobility. (A) Undermining the leading and trailing flap edges. (B) Additional flap motion due to undermining. (C) Clinical example demonstrating undermining around the pedicle. (D) Undermining of the leading flap edge
In regions lacking adequate fat or mobile musculature, repairs other than island flaps are usually chosen; however, in certain cases laterally based pedicles can be utilized. The creation of bilateral fatty pedicles9 (Fig. 5.5) provides substantial vascularity but may inhibit motion in areas other than on the cheek. Flaps based on lateral pedicles are undermined beneath the pedicle at the deepest safe depth. In most cases this will be above fascia, but on the forehead and scalp, islands with lateral pedicles may contain fascia, muscle, artery, and vein. The tethering effects of pedicles on both sides prohibit the introduction of any rotational motion. On the other hand, a unilateral pedicle can be very mobile and can act as a pendulum to allow an island to swing through a broad motion (Fig. 5.6).19 Unilateral pedicles are most successful when they are attached either to a muscular sling, such as a flap based on the nasalis musculature or on a visible arterial branch.13 Unilateral island flaps become, in essence, rotation flaps, and all of the key elements of pivotal restraint apply; however, due to lysis of deep restraint and surface restraint, unilateral islands can often be moved great distances. The TRAM flap is basically a tunneled unilateral island,20 as are temporal scalp hair bearing flaps that are tunneled to the supraorbital region for eyebrow recreation. The design of such flaps must allow for the flap to reach its destination under little to no tension. Even minimal tension or torsion of a flap based only on a single lateral pedicle can cause ischemia.