Thoracodorsal Artery Perforator (Tdap) Flap
EDITORIAL COMMENT
This is a reasonably reliable flap, with consistent anatomy. The donor site can usually be closed, and the scar is not objectionable. It is a flap that should be used more frequently than it is.
This flap was originally described in 1995 as a method for diminishing the volume of the conventional latissimus dorsi myocutaneous flap (
1
). Various methods had been previously described to split the muscle, either longitudinally or transversely, to diminish flap bulk (
2
,
3
). The same area of skin and subcutaneous tissue island can be harvested without the muscle, using the perforator-flap technique.
The thoracodorsal artery perforator (TDAP) flap is another example of the independence of the skin paddle from the underlying muscle from the standpoint of irrigation.
INDICATIONS
The TDAP, as well as its predecessor, the latissimus dorsi musculocutaneous flap, can be used as an island or as a free transferred flap. It is indicated when a thin, large flap with a long vascular pedicle is necessary. It is used as an island for resurfacing of axillary, shoulder, or ipsilateral breast, or anterior thorax, lesions.
As a free flap, it is indicated whenever a large area of skin and subcutaneous tissue is necessary, and a long and large
vascular pedicle is preferred (for example, for large ankle and lower-leg lesions or cranial lesions when the anastomoses are performed to the neck vessels).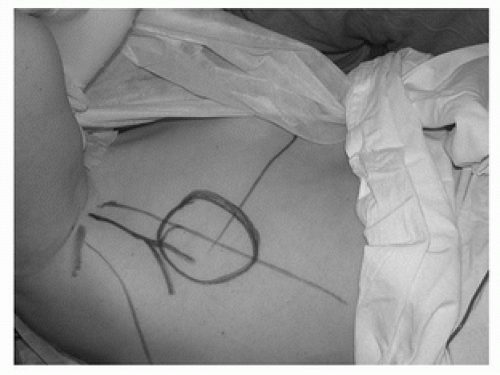 FIGURE 143.1
The thoracodorsal artery runs under the deep surface of the latissimus dorsi muscle, where it bifurcates into two main branches: horizontal and descending branches. Both branches give off cutaneous branches that pierce the muscle. The larger ones come off the descending branch at 6 to 8 cm inferior to the axillary crease and 1 to 2 cm to the border of the muscle.
Premium Wordpress Themes by UFO Themes
WordPress theme by UFO themes