Subcutaneous Pedicle Flap for Reconstruction of The Anterior Surface of The External Ear
EDITORIAL COMMENT
This is an easy and reliable technique to reconstruct full-thickness defects on the lateral surface of the ear using postauricular skin. When planning the flap, one should make sure that the subcutaneous vascular pedicle lies at or close to the center of the defect.
After excision of benign or malignant lesions from the helix and conchal regions of the external ear, the defect, if small, can be sutured directly. More often, however, it may be of such size or in such a location that a free graft or a local flap is needed for satisfactory repair. A simple skin flap on a subcutaneous pedicle from the uninvolved postauricular surface of the ear and the adjacent mastoid area has been useful in repairing a number of defects that involve the anterior skin surface and the underlying cartilage (
1
).
INDICATIONS
The main advantage offered by the subcutaneous pedicle flap is its ease of application. The flap provides an ideal color match and does not require the special dressing techniques that are necessary for immobilization of a free graft.
The flap is not limited to the concha, as
Figures 89.1
and
89.2
might suggest, but in fact can be used in the triangular and
scaphoid fossa areas. The flap has been used to cover a large part of the external canal and can be used even for some defects involving the helical rim. In one extreme case, a large flap was used to provide coverage for the entire anterior surface of the ear out to the helical rim, which had been avulsed in an automobile accident.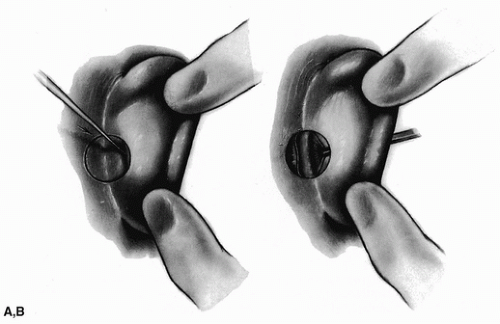 FIGURE 89.1 A:
Postauricular subcutaneous pedicle flap showing incision extending through ear.
B:
Flap is rolled or pulled through to the anterior surface.
(Continued)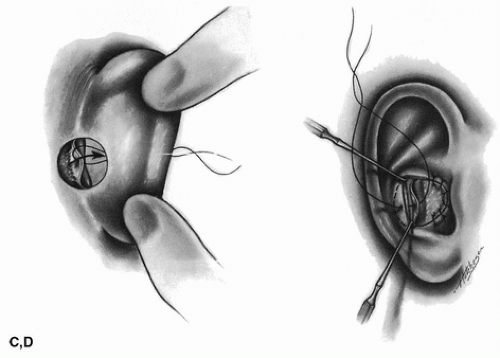 FIGURE 89.1
Continued.
C,D:
Flap is brought forward and sutured in place. (From Masson, ref.
1
, with permission.)
Premium Wordpress Themes by UFO Themes
WordPress theme by UFO themes