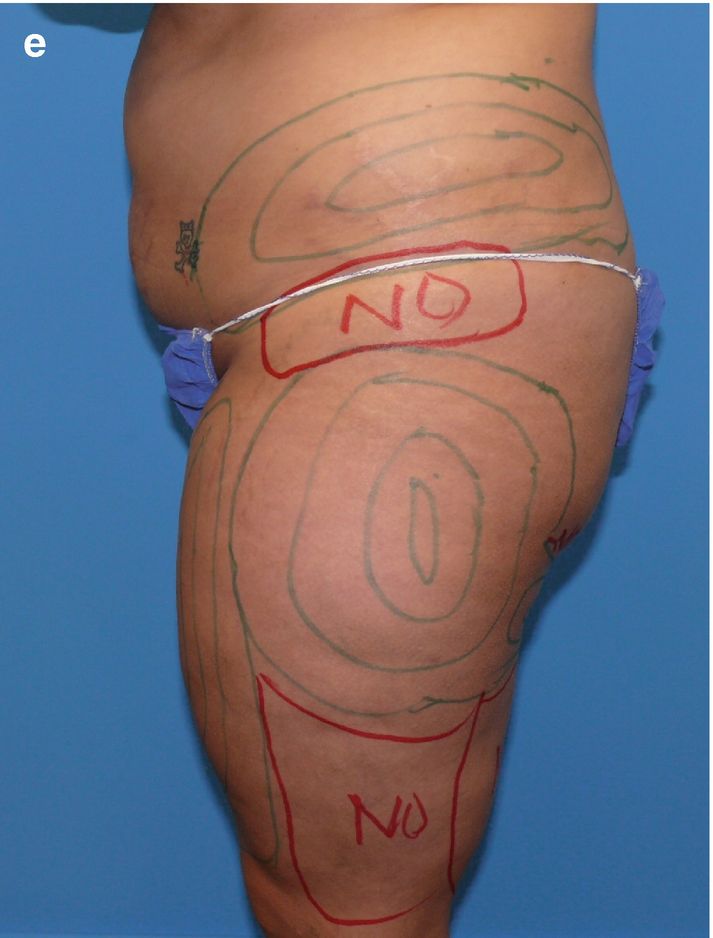 Fig. 8.1
(a–e) Preoperative markings, lower extremities. Zones of adherence are marked in red
For the purpose of planning contouring procedures in the upper extremity, Gilliland and Lyos [8] conceptually divided the arm into three regions: anteromedial, anterolateral, and posterolateral. The majority of the lipodystrophy in the upper extremity occurs in the posterolateral area of the arm. A small amount of fat is present in the anterolateral region and there is minimal fat in the anteromedial region. The great majority of upper extremity liposuction is performed in the posterolateral and anterolateral regions. Liposuction in the anteromedial region should be avoided in most cases since a pinch test in this region frequently is less than 1 cm and extracting fat in this area commonly results in contour irregularities.
Both the ultrasound probes and the cannulas are passed longitudinally along the long axis of the arm.
Liposuction access incisions
, particularly with VAL or UAL, should be placed in the posterior axillary fold and the radial aspect of the elbow to avoid injury to the ulnar nerve. When the ultrasound probe is inserted proximally through the axillary access incision, the surgeon should avoid moving the tip of the probe in the ulnar aspect of the elbow. When the probe is inserted distally through the radial aspect of the elbow, the surgeon should avoid moving the tip of the probe into the axilla. Typical preoperative markings for
arm liposuction
are depicted in Fig.
8.2a, b
, with the areas of liposuction in green and areas to be avoided in red.