Fig. 7.1
BDD classification history according to the Diagnostic and Statistical Manual of Mental Disorders by the American Psychiatric Association
DSM-V Criteria for Body Dysmorphic Disorder [6]
A.
Preoccupation with one or more perceived defects or flaws in physical appearance that are not observable or appear slight to others.
B.
At some point during the course of the disorder, the individual has performed repetitive behaviors (e.g., mirror checking, excessive grooming, skin picking, reassurance seeking) or mental acts (e.g., comparing his or her appearance with that of others) in response to the appearance concerns.
C.
The preoccupation causes clinically significant distress or impairment in social, occupational, or other important areas of functioning.
D.
The appearance preoccupation is not better explained by concerns with body fat or weight in an individual whose symptoms meet diagnostic criteria for an eating disorder.
In addition to the above diagnostic criteria, specifications are included to help diagnosing the disorder. First, it is to be specified if the person has muscle dysmorphia, which is a preoccupation that one's body build is too small or insufficiently muscular [
6
]. This disorder occurs almost exclusively in males with normal or even muscular-appearing bodies [
7
]. The majority diet, exercise, lift weights, and some use anabolic steroids and take food supplements. Second, the degree of insight regarding the beliefs is to be specified. Insight ranges from good or fair (individual is able to recognize that BDD beliefs are definitely, probably, or may or may not be true), to poor (individual thinks that BDD beliefs are probably true), to absent insight with delusional beliefs (person is completely convinced that BDD beliefs are true) [
6
].
Diagnostic and Associated Features
Differential Diagnosis
Body dysmorphic disorder can be confused with other diagnoses including eating disorders, obsessive-compulsive related disorders, major depressive disorder, anxiety disorders, and psychotic disorders. Importantly, normal appearance is in the differential diagnosis.
Body Dysmorphic Disorder and Comorbidities
Associated comorbidity in BDD may include depression, anxiety, social phobia and avoidance, obsessive–compulsive disorder (OCD), skin picking, perfectionism, neuroticism, and substance abuse [
26
,
27
]. Different models have proposed explanations for comorbidity among disorders, such as chance association (random co-occurrence), symptom nonspecificity, and shared etiology or pathophysiology. The latter may explain the high comorbidity of obsessive–compulsive disorder, anxiety, depression, social anxiety disorder, and eating disorders with BDD patients (Fig.
7.2
).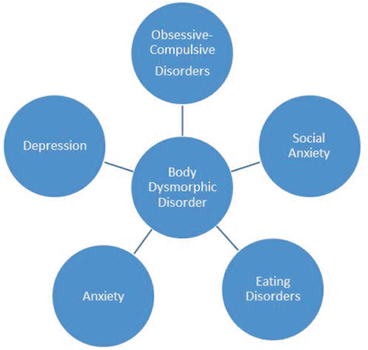 Fig. 7.2
Body dysmorphic disorder and common comorbidities
The most common comorbid disorder is major depressive disorder, with lifetime comorbidity at 75–76 % [
13
,
15
,
28
]. A high proportion of BDD sufferers have comorbid lifetime OCD, approximately 32–33 % [
13
,
15
,
28
]. Patients with BDD and OCD have shared genetic, environmental, and phenotypic variables [
29
]. Both disorders are characterized by recurrent, time-consuming thoughts and ritualized behaviors [
13
]. Shared similarities include high levels of perfectionism and preferences for symmetry, repetitive checking behaviors, and avoidance of triggering situations [
30
]. Both have similar male to female ratios and average age of onset. Data also suggest close association between the two disorders on the basis of their response to pharmacologic treatments and is also supported by comorbidity and family studies [
31
].