Bipedicle Upper Eyelid Flap (Tripier) for Lower Eyelid Reconstruction
The bipedicle upper eyelid flap has been used to repair horizontally oriented losses of the lower eyelid, both marginal and nonmarginal, of less than 10 to 15 mm in vertical height. Usually, when repairing a marginal loss, a composite chondromucosal graft is used on the undersurface.
INDICATIONS
This flap is useful in replacing the absent central two-thirds of the lower eyelid that results from trauma, tumor excision, or congenital colobomas. It can be used to replace a horizontal marginal loss in the central two-thirds of the lower lid, to replace skin loss in the central two-thirds of a lower lid, or to fill in after release and elevation of the lower lid (cicatricial lesions) where vertical height is less than 10 to 15 mm.
The flap is relatively simple to design and execute and is also a safe flap with a good blood supply. It is composed of eyelid skin and muscle and is therefore of good texture and color match. If a composite graft is included, the flap can be used for full-thickness lid replacement (marginal loss). The donor scar is invisible, and there is no functional loss of the donor lid, since the flap tissue is usually in excess in adults. The flap can be used to replace the entire central two-thirds of the eyelid.
Disadvantages of the flap include the following: The width of the flap is limited to 10 to 15 mm in adults and even less in children, and the flap cannot be used for defects of the extreme medial or lateral eyelid. Upper lid tissue is used to reconstruct the lower lid, and this may cause functional loss if incorrectly used. There are no eyelashes present in the flap. Two stages are required to complete the reconstruction.
FLAP DESIGN AND DIMENSIONS
The flap is outlined with the inferior edge corresponding to the supratarsal fold from point
A
to point
B
(
Fig. 17.1A
). These two points are located above the medial and lateral canthi, respectively, where the fold disappears. The superior incision (
CD
) is made parallel to line
AB
(
Fig. 17.1A
), creating a bipedicled flap approximately 10 to 15 mm wide, depending on the amount of redundant tissue present in the preseptal area. A wider flap may be used, but this will require a skin graft to close the donor area.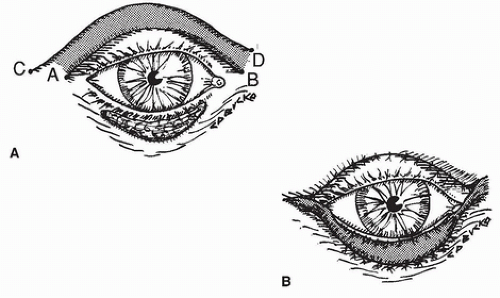 FIGURE 17.1 A:
Bipedicle flap has been outlined, with inferior edge and supratarsal crease from point
A
to point
B.
Superior edge is 10 to 15 mm above crease.
B:
Flap is sutured into central defect, leaving bases in canthal areas intact. Donor area is closed up to bases.
Premium Wordpress Themes by UFO Themes
WordPress theme by UFO themes