Disorders of the Nail Apparatus

Components of the Normal Nail Apparatus (See Fig. 32-1)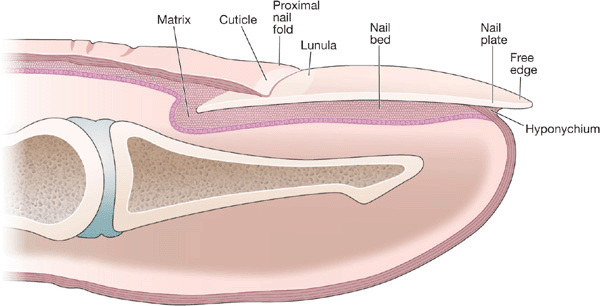 Figure 32-1. Schematic drawing of normal nail.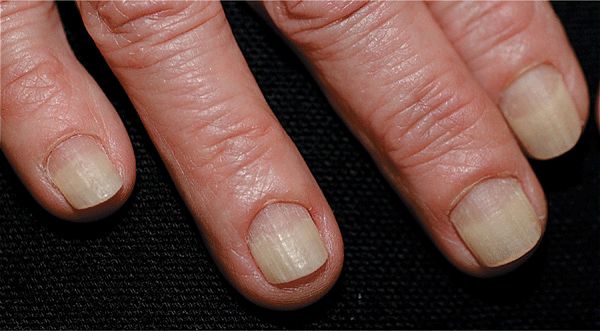 Figure 32-3. Onycholysis A 60-year-old female with distal onycholysis of fingernails, mild chronic paronychia, and loss of cuticle. Psoriasis is the likely underlying problem.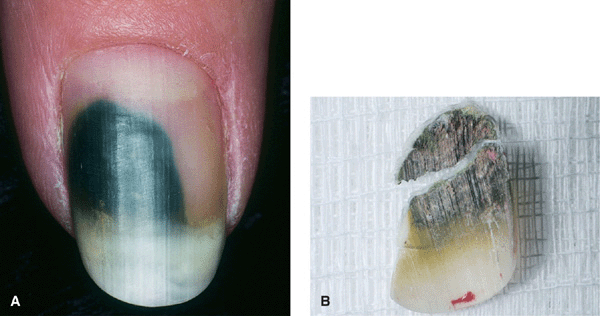 Figure 32-4. Onycholysis with Pseudomonas colonization (A) Psoriasis has resulted in distal onycholysis of the thumbnail. (B) A biofilm of Pseudomonas aeruginosa has produced the green-black discoloration of the undersurface of the onycholytic nail, which resolved following the debridement and treatment of the nail bed with glucocorticoid cream.

Figure 32-5. Onychauxis and onychogryphosis The great toenails appear grossly thickened with transverse ridging (onychauxis) with some medial deviation (onychogryphosis or ram's horn deformity). (Courtesy of Dr. Nathaniel Jellinek.)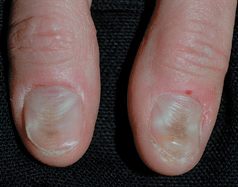 Figure 32-6. Habit-tic deformity The nail plates of both thumbs are dystrophic with transverse ridging and discoloration. The cuticle is absent and the proximal nail folds excoriated. When the proximal nails and nail fold were covered with tape continually, normal nails regrew in 5 months.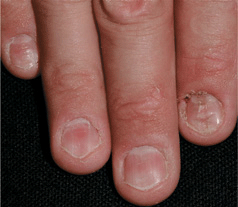 Figure 32-7. Compulsive nail picking The cuticles are not formed, the proximal nail folds are inflamed and excoriated. The breaks in the integrity provide a portal of entry for S. aureus and acute paronychia.
Nail Apparatus Involvement of Cutaneous Diseases
Laboratory Examination
KOH preparation and/or nail clipping to pathology for PAS stain to rule out fungal colonization/infection. Onychomycosis is more common in nails with onycholysis.
Clinical Findings
Skin. Typical psoriatic lesion on nail folds (Fig. 32-8).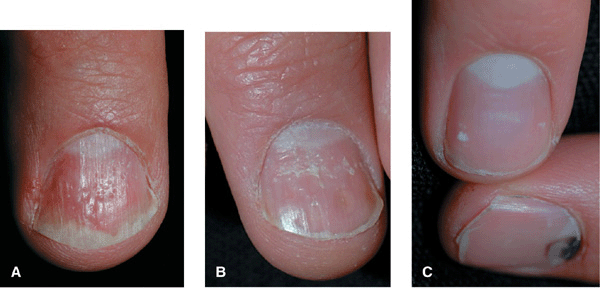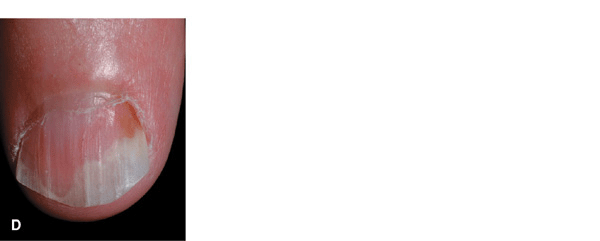 Figure 32-8. Psoriasis vulgaris (A) Multiple nail pits on the dorsal nail plate, "oil staining" of the nail bed, and distal onycholysis. (B) Trachonychia (rough surface) with oil staining and distal onycholysis. (C) Punctate leukonychia is pathognomonic for psoriasis and may be seen in only one finger. As can be seen in the nail below with traumatic subungual hemorrhage, punctate leukonychia did not occur at this site of trauma. (D) Oil staining, distal onycholysis, longitudinal ridging, adherence of the cuticle to the distal nail plate.
Matrix
• Pitting or elkonyxis: Punctate depressions; small, shallow; vary in size, depth, shape (Fig. 32-8A). May occur as regular lines (transverse; long axis) or grid-like pattern. Uncommon on toenails. Also seen in atopic dermatitis. Geometric and superficial pits seen in alopecia areata (hammered brass nails).
• Trachyonychia: Nail dull, rough, fragile (Fig. 32-8B). Twenty-nail dystrophy or sandpaper nails associated with proximal nail matrix damage: nonspecific and can also be seen in alopecia areata (see Fig. 32-10), lichen planus, atopic dermatitis. May regress spontaneously.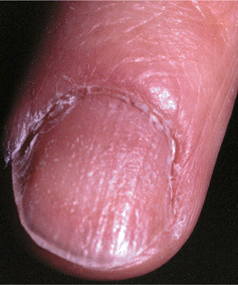 Figure 32-10. Alopecia areata: trachonychia The nail plate is rough with a "hammered brass" appearance.
• Serial transverse depressions: May mimic "washboard" nails of tic habit (pushing back cuticle).
• Longitudinal ridging: Resembles melted wax.
• Punctate leukonychia: 1- to 2-mm white spots in nail plate (mistakenly attributed to trauma) (Fig. 32-8C).
• Leukonychia: Proximal matrix involvement: surface rough and nail coarse (Fig. 32-8C).
Nail Bed
• ″Oil″ spots: Oval, salmon-colored nail beds (Fig. 32-8A, D).
• Onycholysis: Secondary to "oil" spots affecting hyponychium medially or laterally (Fig. 32-8A). May become colonized with Candida, environmental fungi (e.g., Aspergillus), Pseudomonas. Predisposes to distal/lateral onychomycosis in toenail. Up to 20% of psoriatic nails have secondary onychomycosis.
• Subungual hyperkeratosis: Nail plate becomes raised off hyponychium.
• Splinter hemorrhages.
Differential Diagnosis
Onycholysis, onychomycosis, trauma (toenails), eczema, alopecia areata.
Management
• Often unsatisfactory. See "Psoriasis" In Section 3.
• For matrix involvement, intralesional triamcinolone 3-5 mg/mL may be effective.
• For nail bed psoriasis, topical steroid (occluded) reduces hyperkeratosis.
• Systemic therapy such as methotrexate, acitretin, or "biologics" often improves nail apparatus psoriasis but may lag a few months after completion of therapy.
Clinical Manifestations
Skin swelling with blue/red discoloration of proximal nail fold.
Matrix
• Small focus in matrix: Bulge under proximal nail fold (Fig. 32-9A).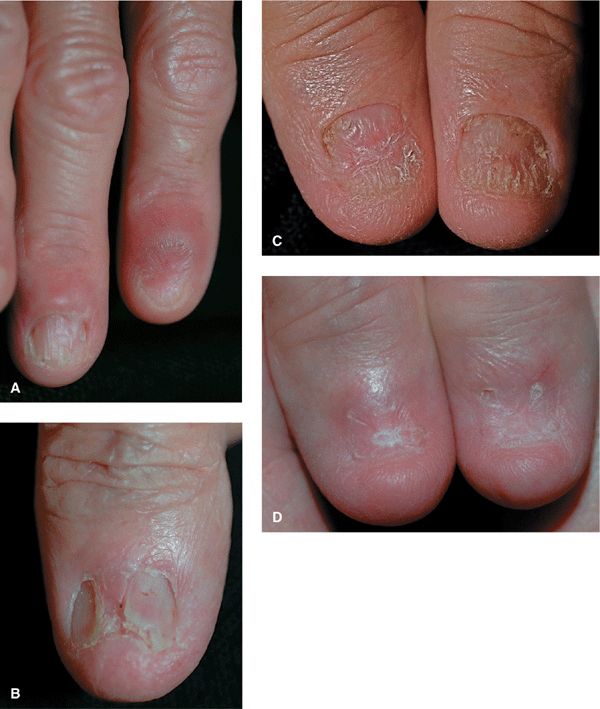 Figure 32-9. Lichen planus (A) Middle finger: involvement of the proximal fold and matrix has caused trachonychia, longitudinal ridging, and pterygium formation. Index finger: destruction of the matrix and nail plate is complete with anonychia. Seven of ten fingernails are involved; the others are normal. (B) Involvement of the nail matrix with scarring or pterygium formation proximally dividing the nail plate in two. (C) Early involvement of the matrix with thinning of the thumbnail plates. (D) Same patient as Fig. 32-8C 2 years later, the nail plate is completely destroyed, i.e., anonychia.
• Subsequent longitudinal red line: Thinned nail plate evolving into distal split nail (onychorrhexis) (Fig. 32-9B).
• Diffuse matrix involvement: Selective atrophy of nail plate with onychorrhexis and/or transverse splitting.
• Red lunula: Focal or disseminated.
• Melanonychia, longitudinal: Transitory.
• Complete nail split.
• Pterygium formation (scar, matrix destroyed): Partial loss of the central nail plate presents as a V-shaped extension of skin of proximal nail fold adherent to nail bed (Fig. 32-9A, B).
• "Idiopathic atrophy of nails": Acute progressive nail destruction leading to diffuse nail atrophy with and without pterygium; complete loss of nail (anonychia) (Fig. 32-9B-D).
Nail Bed. Onycholysis, distal subungual hyperkeratosis, bulla formation, permanent anonychia.
Variants
• 20-nail dystrophy of childhood: Resolves spontaneously.
• LP-like eruptions following bone marrow transplant: Graft-versus-host disease.
• Drug-induced LP-like reaction.
Management
• See "Lichen Planus," Section 14.
• Intralesional triamcinolone.
• Systemic glucocorticoids.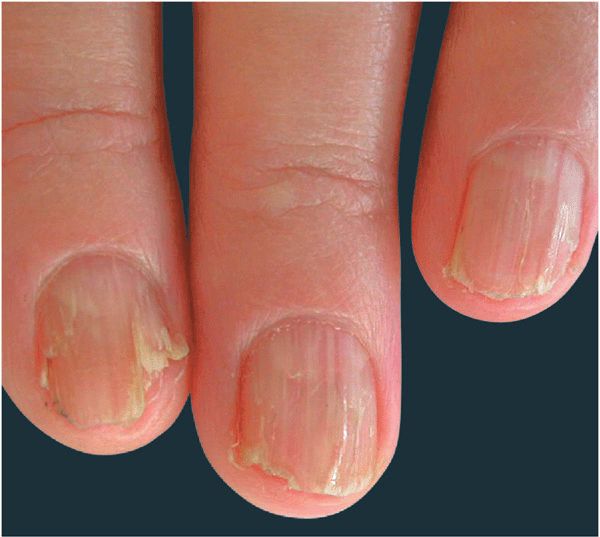 Figure 32-11. Darier disease Red and white longitudinal streaks on the fingernails with V-nicking in distal portion of plate. [From Goldsmith LA et al. (eds.). Fitzpatrick's Dermatology in General Medicine, 8th ed. New York: McGraw-Hill, 2012.]