Chapter 20.

Open Minimal Access Midface Lift
---
INDICATIONS
The indications for this approach to midface rejuvenation include younger patients with descent of the lid-cheek junction who would not be a candidate for an extended superficial musculoaponeurotic system (SMAS) facelift and older patients in whom an extended SMAS procedure will not give adequate vertical vector correction of midface soft-tissue ptosis.
PREOPERATIVE PREPARATION
Preoperative consultation and computer imaging with the ability to demonstrate the effect of shortening of the lid-cheek junction on midface rejuvenation. Patients must understand that this procedure may require several weeks for resolution of edema, typically occurring at 3 to 6 weeks postoperatively.
ANESTHESIA
General anesthesia supplemented with local infiltrative anesthesia is required when the dissection plane is subperiosteal and to provide the hemostatic effect of epinephrine. At the conclusion of the procedure, infiltration of 0.25% bupivacaine with epinephrine along the incision line, and as an infraorbital nerve block, significantly diminishes postoperative discomfort.
POSITION AND MARKINGS
Preoperative markings include the proposed behind the hairline temporal access incision, typically approximately 3 cm in length and determined by passing a line from the nasal ala through the lateral canthus. The incision begins lateral to the line and ends at the anterior temporal crest.
The planned exit points for the barbed sutures are marked approximately 1.5 cm apart and 1 cm lateral to the nasolabial crease (Fig. 20-1).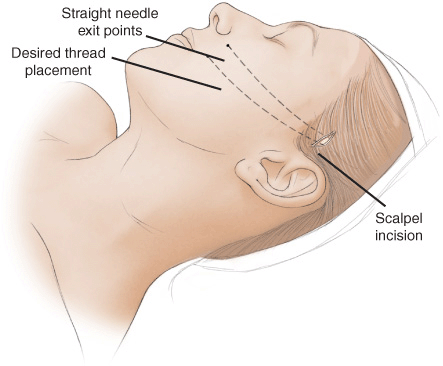 Figure 20-1 Site of temporal incision.
Patients are positioned on a narrow headrest with head elevation of 30 degrees.
INCISION AND EXPOSURE
After the incision line is infiltrated with 1% lidocaine with epinephrine 1:100,000, the patient is prepped and draped, and the periorbital soft tissue and malar area are infiltrated with a tumescent infiltration of 0.06% lidocaine with 1:500,000 epinephrine and 10 mg triamcinolone/500 mL lactated Ringer solution delivered by a liposuction infusion pump and a 25-gauge needle. The tumescent infiltration provides for hydrodissection as well as vasoconstriction. The temporal incision is made down to the deep temporal fascia.
DETAILS OF THE PROCEDURE
Blind dissection continues with a periosteal elevator until the lateral orbital rim is reached. If the lateral brow requires elevation, the dissection is performed under direct vision with either a lighted retractor or a retractor and headlight, and the orbital ligament and periosteum are released along the superior orbital rim. The dissection continues along the lateral orbital rim and continues on top of the deep layer of the deep temporal fascia until the periosteum of the zygoma is reached. The periosteum is elevated off of the anterior surface of the zygoma and the dissection continues inferiorly. Typically, a counter 1-cm incision is made intraorally over the canine fossa after cleansing with an iodine solution and infiltrating 1% lidocaine with epinephrine 1:100,000 for hemostatis. Subperiosteal dissection continues over the anterior surface of the maxilla and communicates with the temporal access incision (Fig. 20-2