Fig. 2.1
Averageness. A composite image made from three images (
a
), the same image given the color of nine images (
b
), and a shape and color composite made from nine images (
c
). Image (
c
) is typically considered more attractive as it is the most averaged of all the images [
13
]
In essence, attractive persons are more prototypical of, more representative of, and better examples of a population of faces, even though not common or frequently occurring [
23
]. Faces near the prototype or average may be processed more fluently, with greater speed and efficiency, and consequently preferred. In two experiments, participants categorized and rated the attractiveness of random-dot patterns or common geometric patterns, with results showing that being prototypical was a predictor of both fluency (categorization speed) and attractiveness [
25
]. In further support, when comparing neurocognitive and behavioral responses to attractive, unattractive, and averaged human faces, participants categorized averaged and high-attractive faces more rapidly and with a reduced amount and need for neural activity, as tested by event-related potentials [
26
]. A strong relationship has even been found between averageness and attractiveness for dogs, wristwatches, and birds, supporting a prototype theory [
27
].
The attractiveness of averageness has been found using both real and computer-manipulated faces with large effect size and cross-cultural agreement (Fig.
2.2
) [
22
]. Evidence shows that young infants prefer to look at average, prototypical faces that adults find attractive [
12
,
24
]. Preferences for averageness have not only been found in westernized societies but have also been found in an isolated hunter-gatherer society, the Hadza of Northern Tanzania (Fig.
2.3
) [
28
]. Given that the Hadza have little exposure to the outside world, they provide very strong support to the argument that the preference for averageness is universal, rooted in biology, and not dependent on media socialization [
28
]. It has also been found that averaged faces are attractive in both Chinese and Japanese cultures [
29
].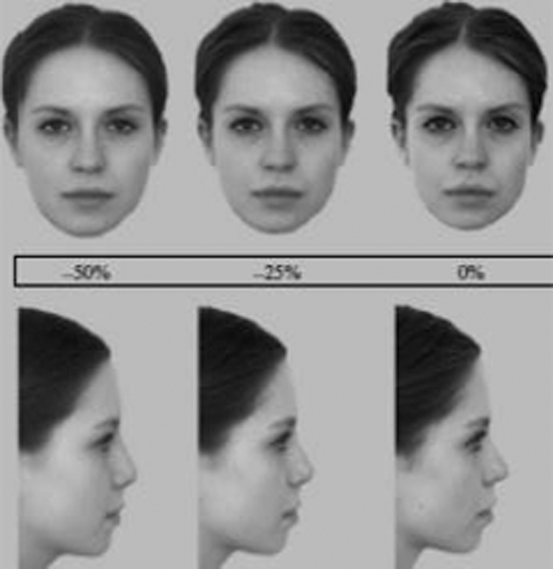 Fig. 2.2
An example of stimuli used in averageness research. In this figure, − 25 % and − 50 % denote 25 % and 50 % morph toward the average from the baseline image of 0 % [
42
]
It has been suggested that mental representations of what is average are constantly updated by accumulated experience, and it is this experience that determines our internal prototypes and influences what faces we find most attractive [
22
,
28
,
30
]. Newborns prefer to look at averaged composites of faces they have seen compared to composites that they have not seen [
31
]. In a comparison study with 5-year-olds, 9-year-olds, and adults, all groups rated the more average faces of different ages as more attractive, with the association becoming stronger as age increased [
32
]. It has been suggested that developmental changes may reflect the refinement of an average face prototype as visual perception develops and children are exposed to more faces [
32
]. Interestingly, viewing contorted faces can adjust one's perception of a prototype, averageness, and attractiveness. Brief exposure to consistent facial distortions shifts what looks most normal and attractive toward that distortion [
33
–
35
]. Young children shown storybooks with distorted (contracted or expanded) faces lead to shifts in judgments of attractiveness, with a higher likelihood of choosing a distorted face as "prettier" after viewing the storybook than prior [
36
]. This provides evidence that attractiveness judgments are malleable and can be influenced by our surroundings and a continuously updated face prototype. Analogous visual after-effects have been observed following exposure to faces varying in ethnicity, gender, and expression [
37
]. These findings demonstrate that perceptual adaptation can reconstruct preferences and is thought to reflect changes in the responses of neural mechanisms underlying face processing [
13
,
38
].
Critics have suggested that other factors might explain the appeal of composite, superimposed images [
39
]. In particular, symmetry is highly associated with averageness and attractiveness. However, averageness independently contributes to attractiveness when symmetry is statistically controlled [
29
,
40
,
41
]. In addition, faces photographed in profile, where direct cues to bilateral symmetry are absent, are also judged to be more attractive after being transformed toward the group average [
42
]. The appeal of averageness cannot be explained by a youthful appearance as it remains attractive when this factor is statistically controlled [
43
]. It has also been found that forming composite images smoothens skin texture as imperfections and blemishes are averaged. This has been accounted for in multiple studies and even when skin color and texture are controlled for, averageness has been found to independently influence attractiveness judgments [
13
,
28
,
41
,
44
]. Studies using computerized caricatures and line drawings, which remove the influence of skin tone and texture, have found attractiveness to increase with averageness and negatively correlate with distinctiveness [
45
]. The importance of averageness to attractiveness judgments is quite robust, and multiple studies have shown that adult preferences for averaged faces cannot be explained by symmetry, blur, youthfulness, or other artifacts that also contribute to beauty which are discussed below [
23
].
Symmetry
Sexual Dimorphism
Skin Homogeneity